Enjoy Beautiful, Natural Light With Tubular Skylights
Natural light lifts spirits, improves our ability to see and learn, reveals our world in its true color, and saves energy. We are thrilled to be mother nature's conduit. Transform your home in 2 hours with one of our tubular daylighting systems. Call us today for a free estimate.
4 Easy Steps

to Customize Your Solatube Tubular Skylight

At Solatube, we make choosing the right tubular skylight configurations for your house as simple as possible. The best way to begin is to set up a free appointment with one of our design consultants. They can then assess your home lighting and provide their expert assistance. If you would like to get a head start on your own, you can just follow these simple steps.
Step 1


Choose Your Systems

Choose from 3 incredible systems. Whether you want a daylighting system with dimming capabilities, one that integrates a solar-powered nightlight, or one of our standard systems, we have all the functionality you could need.
Solar-Powered Daylight Dimmer System
Solar NightLight System
Core Daylighting Systems
Solar-Powered Daylight Dimmer System
Love the natural light of tubular daylighting systems, but want the ability to adjust the brightness? Our new Daylight Dimmer model includes a remote-controlled, solar-powered baffle that opens and closes at the touch of a button. Now you can adjust the light in your space from bright to dark, and everything in between.

Not sure if you want daylight entering your bedroom or living space all day long? This gives you the option to take a nap or watch a movie in the dark with the convenience of our dimmer system.
Solar NightLight System
(ISN System)
In spaces like hallways, closets, and bathrooms, being able to light your way at night is ideal. With our ISn systems, you get beautiful natural light during the day, while an integrated solar panel charges up a nightlight that provides a useful, soft glow at night.
Solatube Core Daylighting Systems
Our Solatube Daylighting Systems are all about delivering maximum natural light into your home. With the most advanced technologies available—from the sunlight-capturing dome to the reflective tube—you can feel confident that you have the premium daylighting system available.
Step 2


Choose Your Decorative Fixtures & Accessories

Enhance the beauty of natural light with Solatube Decorative Fixtures. You're sure to find one that blends beautifully with your home's decor, adding an element of style to any room. We have Round and Square model options for any type of decor.
Classic Vusion
Features a white rim and clear, dimpled surface with views into the tubing.
Available for: 160 ISn / DS and 290 ISn / DS
Accessories & Add-Ons
Make your system do more. With optional Solatube add-ons, you can add nighttime lighting, control bathroom humidity, or adjust daylight levels. These features integrate seamlessly with the main daylighting system.
Ventilation Add On Kit
The Ventilation Add-On Kit combines daylighting and ventilation into one attractive fixture, leaving your rooms humidity-free and your ceiling looking orderly and uncluttered.
Light Add On Kit
Easily attaches to the inside of the system's tubing to deliver lighting for nighttime use. Also prevents unnecessary clutter on your ceiling because it uses the same space as a Solatube Daylighting System.
Solar-Powered Daylight Dimmer
The Solar-Powered Daylight Dimmer uses a patented butterfly baffle in the tube and a convenient wireless remote to let you adjust light levels simply and easily.
Step 3


Choose Your Size

Choose the size of your tubular skylight. For more light and larger spaces choose the 290 daylighting system (14 inch), for smaller spaces select the 160 daylighting system (10 inch).  And don't forget round or square is an option.  
160 Daylighting Systems Round or Square
This system provides daylight and brilliant illumination to spaces up to 200 sq. ft, such as bathrooms, laundry rooms, closets, and hallways. Round and square diffuser options are available. Tube Size ≈ 10 in. (250 mm) Light Coverage Area ≈ 100-200 ft.² (14 – 19 m²) Potential Tube Length ≈ 20 ft. (6 m)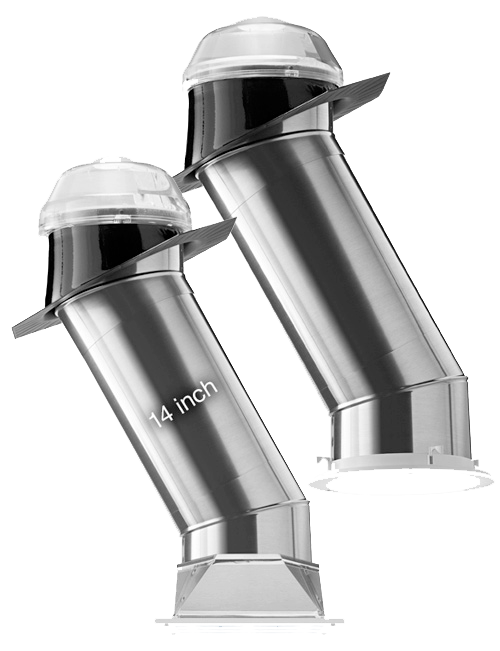 290 Daylighting Systems Round or Square
Delivers daylight and brilliant illumination to spaces up to 300 sq. ft, such as the kitchen, family room, master bath, and large entryways. Round and square diffuser options are available. Tube Size ≈ 14 in. (350 mm) Light Coverage Area ≈ 150-300 ft.² (23 – 28 m²) Potential Tube Length ≈ 30 ft. (9 m)
Raybender 3000 Dome
Our standard dome gives you the flexibility to capture sunlight from just about any angle with our advanced Raybender 3500 lens built into the crown. Also, the configurable LightTracker reflective panels allow for the capture of late daylight to maximize the available daylight.
Low Profile Collector
Sleek flat design that makes for a subtle appearance on your roof. The Low Profile Collector incorporates our Raybender Slim Technology to capture low-angle sunlight. As part of our Architect Series, it provides a low profile with our patented technology that maximizes light capture throughout the day.